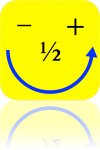 Score & Grade
Calculate school grades quickly and easily!
This first version is designed especially for Finnish teachers and the Finnish 'kouluarvosana' grade system... but we are happy to add support for other systems, just ask!
Configurable maximum score
Configurable pass percentage
Configurable resolution (whole, half, or quarter points)
Handy summary view with every possible score and grade
Easy to use controls
Getting Started
The display is divided into three parts:
Summary
Limits
Result
Summary
Each line shows a possible grade and score (or range of scores) required to achieve that grade. The lowest passing grade is shown in red.
Limits
Configure the maximum score and pass percentage here. You can also select whether half or quarter points are used.
Result
Select the score, and see the resulting grade. (The selected grade is also highlighted in the Summary window, in green.)
Settings
Tap the Gear icon to show the Settings menu.
Feedback & Support
We really want to hear your comments and ideas for new features, so please get in touch!
Please email scoreandgrade(at)gmail.com to get support or give feedback.