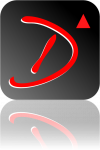 Dashometer
The most accurate, reliable, and flexible GPS App for iPhone!
Reviews
One of the best Apps ever! ★★★★★ - by tmuecke - v4.3 - 30-Jan-2013

Unbelieveable that I am the first one to rate this App. ...offers great features. ...and is a must have for everybody who wants to have precise information... Perfect and thank you!!!

★★★★★ - by The Knack - v4.2 - Jan 17, 2013

The best GPS and Heads UP app found. Creator responds quickly to comments and suggestions.

Wonderful App 10/10 ★★★★★ - by Brimstin85 - v4.1 - 22-Nov-2012

The information is large, easy to read, accurate, and intuitively laid out. The app is easy to use and very capable. It has plenty of advanced features too. Worth every penny.

The best dashboard app in the store ★★★★★ - v2.7 - 19-Aug-2011

The display is very clear and easy to read in a car and on a bike. The dev is very quick to respond to feedback as well.
Introduction
Watch the data you care about in real-time. Track your trip on the built-in Map. Escape from Zombies. Share your route. Ideal for walking, jogging, cycling, motorbiking or driving.
Easy to read display
Imperial / Metric Units
Your own choice of colours
Landscape / Portrait orientation
Beautiful Dashometer-designed LCD-style font
HUD (mirrored) mode for viewing on your windshield
Simply tap the information displayed on the dashboard to configure, control, and customize it...
Location (Various formats)
Heading: Heading, Hold, Alarm Direction
Altitude: Current, Minimum, Maximum
Speed: Current, Average, Trip Average, Maximum, Pace
Distance: Trip, Odometer, Travel Alarm, Proximity Alarm
Time: Moving, Stopped, Travel Alarm, Proximity Alarm, Countdown Timer
Use Alarms to escape from zombies or find your car — also great for enduro events, geocaching, and more! Bookmark interesting places, to return to later — or share with friends. Review previous trips – how does this trip compare?
VoiceOver
Multitasking
Track your trip on the built-in Map
Comprehensive built-in Instructions
Create Bookmarks from addresses (Geocode)
Find the address of a Location (Reverse-Geocode)
Alarms (Low Speed, Over Speed, Time, Distance, Radius, Proximity)
Share Location, Bookmarks, Trips, and Addresses via Email, SMS, and Clipboard
Record route (GPS Tracks) and export (KML, GPX) to compatible Apps or share via Email
iPod Touch and Wi-Fi only iPad users NOTE! you need an external GPS receiver.
Feedback
Dashometer is regularly updated with new functionality based on your feedback. We really want to hear your comments and ideas for new features, so please get in touch. We are already working on the next update!
Please email dashometer(at)gmail.com to get support or give feedback.
Instructions
Dashometer includes full in-App help which is included here too!
Getting Started
Tap the Start button and a GPS signal indicator will appear.
Tap the signal indicator to stop the GPS.
An animation is shown while searching for your location. Signal strength is shown as 1-5 bars (more bars is better).
Dashboard Overview
The dashboard displays telemetry values including: Coordinate, Heading, Altitude, Speed, Distance and Time. Tap on values to switch their display mode.
Most values have units and you can tap on the unit to choose between various metric and imperial options.
Many values also respond to a long-tap in order to further configure them.
Modes, Units & Actions
Modes
Tap values to switch their display mode.
| Value | Modes |
| --- | --- |
| Heading | Heading, Hold, Alarm Direction |
| Altitude | Current, Minimum, Maximum |
| Speed | Current, Average, Trip, Maximum, Pace |
| Distance | Trip, Odometer, Target, Alarm |
| Time | Moving, Stopped, Target, Alarm, Timer |
Units
Select between various metric and imperial units by tapping the unit itself.
| | |
| --- | --- |
| Heading | degrees (magnetic or true North) |
| Altitude | metres, feet |
| Speed | kilometres per hour, miles per hour, knots |
| Distance | kilometres, miles, nautical miles, metres, or feet |
Actions
Long-tap works for some objects on the dashboard:
| Value | Action |
| --- | --- |
| Coordinate | Switch display style |
| Heading | Jump to Heading Settings |
| Heading (Hold) | Reset desired heading |
| Heading (Alarm) | Jump to Alarm Settings |
| Speed | Reset Dashboard |
| Speed Limit | Choose speed limit |
| Distance (Odometer) | Reset Odometer |
| Gear Icon | Jump to Display Settings |
Dashboard
The dashboard displays GPS telemetry data.
Telemetry data is organized into trips which include useful information such as distance, average speed, start & end location, etc.
The current trip includes route data if enabled in Settings.
Tap the Start button to activate the GPS.
If a trip was previously started then you will be prompted to either continue or start a new one.
Note: Starting a new trip automatically saves the previous trip summary, and saved trips can be viewed via the Settings menu. (Saved trips do not include route data.)
Stopped Mode
Dashometer automatically switches to Stopped Mode when it detects that you are not moving.
With very good signal strength (4-5 bars) then this stop detection can be within a matter of seconds, however when signal strength is poor (and at low speeds) then it may take a lot longer.
Coordinate
Displays your current (or last known) location.
Tap to:
Add Bookmark
Show Trip Summary
Share location
Tap the crosshair icon to show the location on the map.
Share Location
The current location can be shared via multiple services and in various formats including plain-text, vCard, KML or GPX file.
Long-tap fields to copy them to the pasteboard individually.
Tap the location-symbol in the toolbar to show location on the map.
Tap the plus-symbol in the toolbar to save the location as a new bookmark.
Note: These sharing options are also available for locations on the Map, for Bookmarks, and for Trips.
Heading
Displays your current (or last known) heading. Long-tap to show Heading settings.
Use the Hold mode to help maintain a heading. The display shows deviation in degrees beneath the desired heading. Long-tap to reset the desired heading to current heading.
Alarm Direction mode helps guide you towards the Proximity Alarm location. The number indicates the deviation in degrees from the straight-line heading to the alarm location. Long-tap to jump to Alarm Settings.
Speed
Displays speed-related information. Tap to change display mode.
An icon indicates whether you are travelling faster or slower than the average speed.
Reset
Long-tap Speed to:
Reset minimum & maximum values (related to Altitude and Speed)
Reset dashboard (not Odometer)
You can save the current trip information, and saved trips can be viewed via the Settings menu.
Route data is not saved.
Note: Reset does not affect Bookmarks or settings in the Settings menu (but Reset Trip stops active alarms).
Settings
Tap the Gear icon to show the Settings menu.
Map
Use the standard pinch-to-zoom and drag-to-move methods to interact with the map (including two-finger-tap to zoom-out).
Tap the crosshair icon to automatically track the current location. Tap the zoom icon to automatically fit the entire route on to the screen. Tap again (or drag the map) to turn automatic tracking off.
Tap the globe icon to choose the map view:
If enabled, then the Proximity Alarm is shown as a red circle overlaying the map.
Note: Map functionality requires an Internet connection.
Map Pins
Pins show:
Start location (Green)
End location (Red)
Coordinate location (Red)
Bookmarks (Purple)
Bookmark visibility is controlled from the action menu.
Tap the map pins to see more information. From the information screen you can find the address of a location (reverse-geocode), create a new bookmark, and copy and share the location details.
The 'Coordinate' pin may be dragged freely around the map.
Route
If enabled in Settings, then Dashometer records the route and draws it on the map with a blue line.
The map action menu allows route visibility to be controlled, and route data to be exported.
Route data (also known as "GPS Tracks") can be exported in a variety of formats.
KML — used by Google Earth
GPX — the GPS Exchange Format
Tap the icon to send the route data to another application. Note: this feature only works if you have compatible applications installed.
The route data can also be sent via email.
Settings
Tap the Gear icon to show the settings menu, from where it is possible to:
Configure the display
Configure gestures
Control Alarms
Control Speed Alerts
Configure Heading
View, create, and edit Bookmarks
View saved Trips
Control route recording
Show Instructions
Contact support
Rate Dashometer on App Store
Modify advanced settings
Setting Shortcuts
The Dashboard supports a few shortcuts for jumping directly to settings.
Long-tap the Gear icon for Display settings.
Tap the Speed Alert icon for Speed Alert settings.
Long-tap any of the alarm values for Alarm settings.
Long-tap the Heading for related settings.
Configurable swipe gestures.
Display
Display-related settings are found here.
Control Heads-up Display mode
Hide or show the Status Bar
Control display rotation
Choose Dashboard font
Choose colour scheme
In Heads-up Display (HUD) mode the display is mirrored so that it may be reflected in your car windshield, thus creating a HUD effect!
Gestures
Configure various swipe gestures for quick access to your favourite features. Both one and two-finger swipes are available.
Alarms
The countdown Timer can be used as a reminder to take a break after travelling for a certain period.
The Target alarm triggers after a certain distance has been travelled.
The final alarm actually has two modes:
The Radius Alarm defines a circular region around the starting location, and the alarm triggers if you travel outside of the circle.
The Proximity Alarm triggers when you reach the vicinity of a location.
(The accuracy field controls how close to the location you need to be for the alarm to trigger.)
Speed Alerts
Dashometer can alert you if your speed is too fast or too slow.
Alerts are similar to Alarms, and continue to work even when Dashometer is running in the background.
When Speed Alerts are active the main display has an extra button (near Speed value) which shows alert details; tap the button to:
Show Speed Alert Settings
Quickly choose a new Speed Limit (long-tap)
When triggered, the Speed value changes colour; if the main display is not visible then a message box pops-up too.
Heading
Choose the source for heading display.
| | |
| --- | --- |
| Compass + GPS | Magnetic compass used when stopped or at low speeds, otherwise GPS is used. |
| Compass | Magnetic compass only. |
| GPS | GPS only. |
The allowed deviation range can be set for Hold mode. When outside of this range the Heading value changes colour, and a warning sound will be played after a configurable delay.
Note: the warning sound is only played when the heading display shows Hold mode.
Bookmarks
Organize or delete bookmarks by clicking the Edit button. Tap the icons on the bottom bar to:
Delete All Bookmarks
Create new Bookmark
Export Bookmark Data
Bookmark Editing
Tap on a Bookmark to show a detailed view where the bookmark can be edited or shown on the map (the map pin can be dragged in order to fine-tune the bookmark position).
The location field accepts all popular coordinate formats (which can be pasted from your favourite website or search engine).
Alternatively you can enter an address in the location field and it will be transformed to a coordinate.
Trips
The trips folder contains saved trip data.
Organize saved trips by clicking the Edit button. Tap the icons on the bottom bar to:
Delete All Trips
Export Trip Data
Tap on a Trip to show a detailed view.
The Trip data can be exported as text or in the comma-separated values (CSV) file format for import to spreadsheets and other analysis tools.
Route Recording
Route recording can be enabled/disabled at any point in a trip, previously recorded data is not lost.
Note: Route data is destroyed when Reset All is selected.
Advanced
Dashometer can be configured to Auto Start when first launched.
The current trip can be paused while Dashometer is in the background.
The accuracy of speed display can be set. (By default no decimal digits are shown in order to maximize readability.)
Control whether magnetometer calibration alerts are displayed.
Accuracy
Accuracy depends on both signal strength (shown as 1-5 bars) and speed.
When first starting Location Services the accuracy may be quite poor, but will typically improve over time as more and more GPS satellites are detected.
At walking speeds four bars are needed for accurate speed display, but three bars are often enough for accurate distance measurement.
For Proximity Alarm it is recommended to set the accuracy greater than ±20 metres (or ±60 feet) unless you have very good signal strength (4-5 bars). It is worth verifying the Proximity Location on the map if you require high-accuracy.


What's New in Version 8.0
iOS 9 support
iPhone 6 and 6+ display support
Improved GPS reliability at start-up
Improved heading display
Improved font metrics
Improved font configuration
Add Avenir Next Condensed font
View the full changelog.
Feedback & Support
We really want to hear your comments and ideas for new features, so please feel free to get in touch!
Please email dashometer(at)gmail.com to get support or give feedback.